We were off to Austin. Y'all may wonder why?
To see a big yellow truck, this year at South By.
It was hard to reply, again & again
when asked what shows, we planned to attend.
There is not a show, I tried to explain
I could tell they were thinking, that I was insane.
A store on wheels, painted yellow and black
Selling vinyl and dreams, of a small glimpse of Jack.
It was Friday morning, with a road trip ahead
My sweet hubby driving, with his shoe full of lead.
We made it to town, in about record time
Drove 200 miles, then stood in line.
I was hot, I was happy, but mostly I was poor
After my stop at The Third Man Rolling Record Store.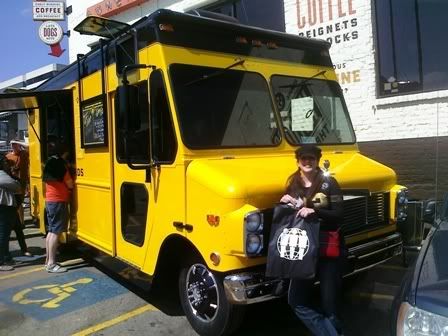 We drove in that morning, and drove home that night
A one day adventure and it's over. Right?
Wait, not so fast! Although tired and worn,
We have tickets on Sunday, to see the Greenhornes!
Now back in Dallas, we head to Deep Ellum
To see the Greenhornes, and hopefully tell 'em
How much we appreciate, their talent, their band
Get all their autographs, and shake all their hands.
The boys were so gracious, and as cool as could be
When they signed our vinyl, then rocked our city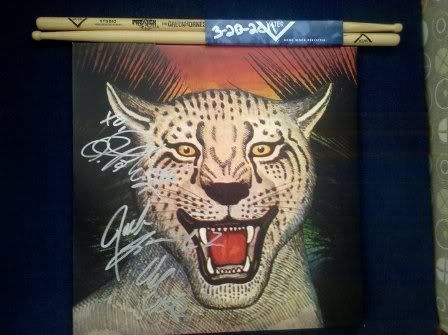 The weekend was over, and Monday morning came early
Four hours of sleep, but it was worth it... Really.
Can you imagine the perfect end to this tale?
My Third Man vault package arrived in the mail!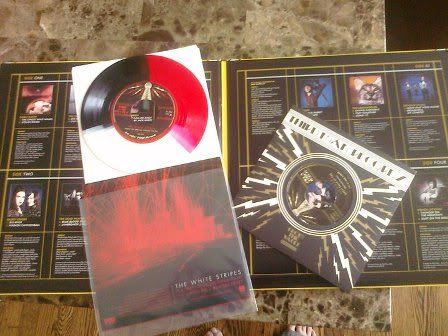 Me and LJ (Jack Lawerance) of the Greenhornes, Raconteurs and the Dead Weather.



(you can watch this video to get a glimpse into the Third Man Rolling Record Store Experience)


March 18-20, 2011
Are you following my blog? Simply click the blue 'Join this site' button to the left (you may have to scroll down from the top). Thanks, as always, for your support. Lea-Bean