Jack White shook my hand but let's start at the beginning. In case you have been living under a (rock music) rock the last decade, let me bring you up to speed. Jack is best known for his band, the White Stripes and has a little record label called Third Man Records. The White Stripes, consisting of Jack and Meg White, were playing together for more than 10 years when they canceled the end of their 2007 tour citing Meg White's anxiety. At this point, we still had Jack's new band, the Raconteurs. They quickly put out two albums and did two tours before rumors of yet a third band was announced. This time Jack on drums, with Alison Moshart of the Kills on lead vocals in a dark, bluesy rock band called The Dead Weather. Three bands, with three different sounds, all drawn from the same roots. I'll get to more of that later.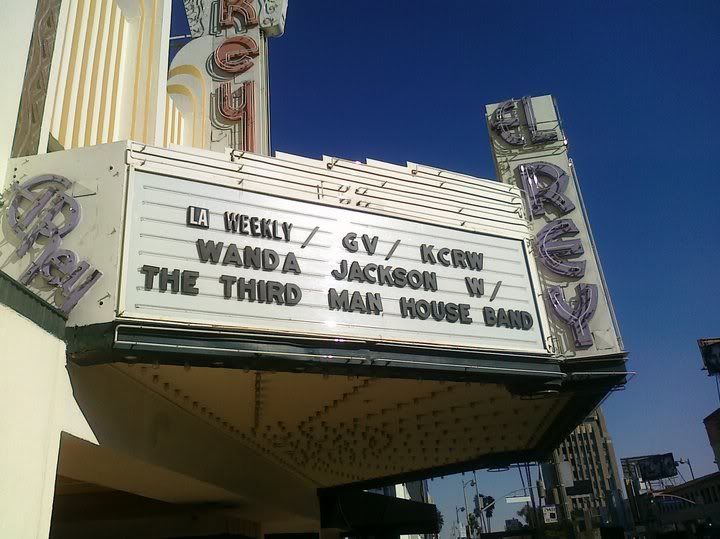 As 2010 came to a close, I could not help but start to feel that 2011 was going to be bleak year in regards to Third Man Records/Jack White. After all, 2010 was just full of fun and exciting things. I started off the year in great anticipation of (The White Stripes) Under Great White Northern Lights box set that was set to ship in March. It included a documentary DVD, a live CD, a live DVD, a coffee table book and of course some vinyl. Shortly after, TMR set up a pop-up Third Man Records shop in Austin, TX during the SXSW festival in March. This offered much excitement, road trip opportunity and rare vinyl! What more could a die-hard Jack fan ask for? How about a Dead Weather show! Live and in person in April. Speaking of road trips, my patient and understanding husband (although sometimes accompanied by an admittedly well deserved eye roll) agreed to go on road trip to Nashville to visit the holy grail of vinyl, the Third Man Records shop itself! Actually, it was his idea, but he probably won't admit that to you.
We decided to make a trip of it and bought Dead Weather tickets in Memphis for our anniversary week-end. What a full year already and all of this was accomplished by the last week in April 2010. The rest of the year proved to be just as exciting with the introduction of the Dead Weather Triple Decker Record release. If you don't know what that is, you should you tube it, it's pretty cool. They were shipping these randomly in mail orders when you ordered the "Blue Blood Blues" single on vinyl. I wasn't one of the lucky ones who received one in random mail order, but the anticipation of the possibility of it provided enough excitement to last a month! There were many cool Vault packages and then the re-release of the first three White Stripes albums on vinyl. In fact, I was one of the lucky ones who was randomly selected to receive a limited edition split color (red and white) vinyl in my mail order, instead of the plain black one I ordered. Pure excitement. As the year rounded out, I started to think of the possibilities that 2011 would bring. And things were looking dim.
Both of Jack's other Bands, the Dead Weather and the Raconteurs were unlikely to do a new album or tour this year due to other band members being tied up in other projects (namely their original bands before getting involved with these Jack White projects). Jack said in a Vanity Fair interview at the end of last year that he may be ready to start recording with Meg again, implying a White Stripes reunion (after a four year hiatus). I have heard these vague suggestions before over the years and I am cautiously optimistic.
I have seen Jack White in concert at least once a year for the last four years, in one band or another. I was starting to think that 2011 may be the year that would end the streak.
I started to wonder if Jack would spend more time wearing his producer hat and hang his performer hat for later times. After all, it seems he has been quite busy over there at Third Man since he moved his label from his home town of Detroit, Michigan to Nashville, Tennessee in 2009. Jack has been producing up and coming bands as well as giving a new life to some big names like Loretta Lynn. Which brings me to Wanda Jackson.
20 years before Jack White (or John Anthony Gillis to be more accurate) breathed his first breath, there was Wanda Jackson breathing new life in something of her own. Known for being Elvis' girlfriend, she was declared the Queen of Rockabilly. Before there were women in rock, there was Wanda Jackson, a true pioneer. However, I had never heard of her before her association with Jack White. His latest project? He was producing the 74 year old legend's new album. And that is the pure beauty that is Jack White. He took music that I didn't know or understand or particularly wanted to understand, and interpreted it in way for me that spoke my language. It led me to appreciate music of all genres that I never cared for before; country, folk, rockabilly, and particularly blues, among others I am sure. I never cared for Dolly Parton until I heard Jack cover her "Jolene" with the White Stripes with such passion that it caused me to want to dig deeper in her music. It made me appreciate her songwriting in a way I never could have otherwise. The White Stripes covers of Son House's "Death Letter" gave me a history lesson in the blues, that I didn't know I asked for. These are just 2 examples, the list goes on and on. Jack put his brand of rock and roll on these artists and fed it to me in a way I could understand. Now he is producing the likes of Loretta Lynn and Wanda Jackson, putting his spin on their already accomplished, well respected voices.
So, if you told me 6 months ago that I would be buying a $250 plane to ticket to Los Angeles to see a 74 year old rockabilly queen, I would have thought you were nuts. And before you start accusing me of the same, let me first explain. Wanda Jackson was about to release a new album produced by Jack White, supported by tour dates all across the US. It was announced that on her New York and Los Angeles shows she would be backed by the Third Man Records House Band featuring none other than Jack White on guitar. Now, I have an old friend (let me rephrase that, a young long-time friend) who lives in the Los Angeles area. When she heard about Jack White playing the LA show, my friend told she was going to buy tickets.
"I wish I was rich, and I could jet out there for the night from Dallas, to see the show…and see you of course" I mused over the telephone. But then the idea was planted. A few more conversations and a thumbs up from the hubby, the plan was set. Assuming I could find a reasonably priced plane ticket, I would fly out on Sunday morning, see the show, spend the night and fly back to Dallas on Monday night. You only live once, right? This gave me the opportunity to see my longtime friend and keep with my current history and seeing Jack White at least once a year.
So, here I am today on my flight back to Dallas writing this blog, expected to arrive in DFW right around midnight on Monday night after the show. I am exhausted, sleep deprived, fighting off a small but growing head ache, but still feel like I am sitting on top of the world. Nearly 24 hours later, I am still riding the high from the show. I miss my husband, the flight attendants are rude and I would give anything for my king size bed right about now. It was all was worth it and I will be saying that tomorrow when the alarms rudely awakes me a 6am for my normal routine back to the corporate world. But, I am getting a head of myself again.
I have to be honest and admit, I didn't have very high expectations of the show itself. Once again, I habitually fall into my rock routine. I like the music I like and that is it. Jack has a unique way of putting his spin on different genres of music, giving me a new appreciation. But this isn't Jack covering Wanda. This is Wanda with Jack supporting her (in more ways than one). Rockabilly style music isn't something I usually gravitate towards. However, I knew it would be worth it to witness Jack's genius on guitar regardless.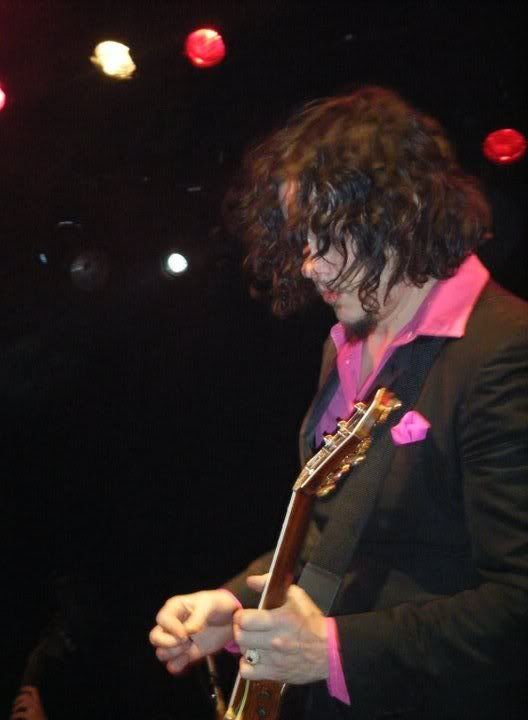 I know what you are thinking. Get to the point, Lea. The concert? Wanda? Jack? How was it? I'm almost there. Be patient.
We get there early to try to get a decent spot in line so we can in turn can get an appropriately decent spot in front of the stage. The line was wrapped around the small venue, even a hour before doors opened. We stood in line on this gorgeous night and waited. The buzz in line was all about Jack. So, apparently I am not the only Jack fanatic in Los Angeles tonight. A whole crowd of them beat me to the front door. But that being said, when the doors finally opened we snagged a perfect spot stage left. Chit chat with like-minded music fans around me helped pass the time until the band was ready to perform.
The Third Man Records House band started it off and Wanda came out to the cheering crowd, to put on her show. She was clearly having a great time, with a big smile and oozing sweetness. She and Jack even exchanged the occasional playful nudge on stage. You could see her joy and her passion and those are two things I think anyone can appreciate. You see her and want to hug her. Honestly, you kind of want to be her. If only I could be that cool when I am 74. Of course, she was way cooler than me when she was 36, so it is probably already too late for me. I have to tell you, the music was amazing. I was bouncing around all night, one song after another. Jack, of course, stole the show in the way that he doesn't intend to do, but always does. This is Wanda's show and he let her have it, but all eyes (at least these two) always seemed to gravitate back to Jack. The show flew by, and it was over before I knew it. It blew away all expectations I had. I thought I maybe wasn't going to enjoy the music like I might of another band or style of music. But, I stand corrected. I enjoyed every minute of Wanda and the TMR House Band. Jack at this point was icing on the cake, just enhancing what would have been nothing short of an amazing show without him.
Show's over, it probably 12am. So time to go home, right? Wrong. We leave the show and walk behind the venue to check out the exit situation. We see an empty white van at the top of the drive way just a few feet away from the back door. There are 2 other girls already standing around the van, peering in the windows, wondering the same thing we are and hoping the same thing we are: that the back door will open, Jack will walk out and instantly become all of our newest best friend. Right?
As we stood behind the venue, in the narrow drive way squeezed between the assumed get-away van in the warm California evening. One of the other girls standing nearby, takes a knowingly glance at my wedding ring and asked "What does your husband think of you out here" in a tone that suggested she had some sort of knowledge of illicit intentions. I didn't really understand the question, because after all, I am here to try to sneak the opportunity to say hello to someone that I have admired musically for many years. I was hoping for a hello, a handshake or maybe a picture for my Facebook page. Well, actually I never considered the hand shake. I guess her intentions weren't so pure and assumed mine were the same. Girls like this give celebrity stalking a bad name. KIDDING FOLKS! The conversation was interrupted by some rustling at the back door. Someone was coming. As we heard the male voices approach, we held our collective breath in anticipation. After a few unknown faces squeezed past us with a quick hello and disappeared down the alleyway, someone announced a face in the pack with Dwight Yokem. How random, right?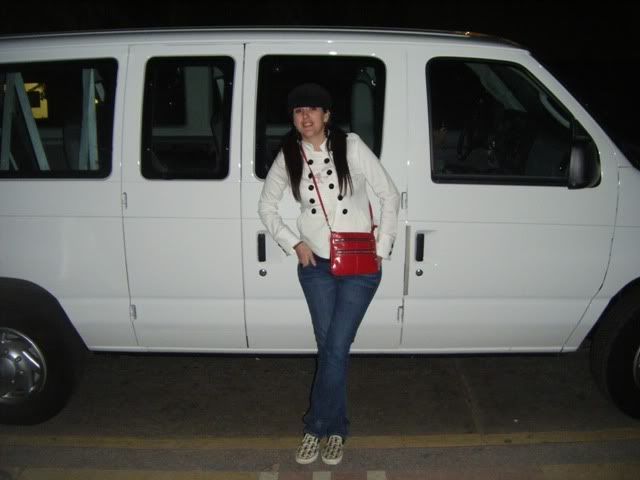 Shortly after security came through and told us we had to move a long now. They walked us to the end of the driveway onto the side street of the venue. Assuming that security was clearing us out, because Jack was actually leaving the building now, we waited at the end of the drive way for perhaps a glimpse of him leaving in the van and a wave. Then, before we realized what was happening, we watched Wanda exit the back door with her husband/manger and promptly loaded in the white van. We informed the security guard who was now keeping a watchful eye on us, our intentions to cheer on Wanda as she drove past us. He politely asked us if we would not do that due to the residential area and late hour. He told us she said she was very touched that we were waiting outside for another glimpse of her. As she drove off, the small group obeyed the rules and waved silently at her as she blew kisses and was driven away. The security guard must have started to soften to us because he informed us he believed Jack would actually exiting from the front of the venue.
We rushed around to the front and I would say less than 20 people were still gathered there some 45 minutes after the show ended. I started to lose patience and was suggesting to my friend that we pack it up and call it a night. My friend thought she saw a limo at the corner and wanted to get closer to investigate. As she disappeared around the corner, I noticed some commotion near the front door. There was a definite buzz from the staff…and then it happened. The doors swung open and out walked Jack and the members of the TMR house band. Now, seeing Jack on stage is one thing, even when he seems like just an arm's length and a zoomed camera shot away. But this was in the flesh, on my level, not up on stage. We both, if only for a few seconds, were standing outside of the El Rey theatre in Los Angeles California at the same time. Now, it only takes a few seconds to walk from the entrance of the venue to the van parked right in front, so all this happened very quickly. As he hurriedly walked by, I stuck out my hand. He accepted it and gave me a nice firm shake on his way to the van. I didn't say anything, which would guarantee I didn't say anything stupid. Although at the time, it wasn't a conscious decision, I probably couldn't have said anything if I wanted to. That was all that I needed. They loaded in the band and took off down Wilshire. As quickly as he showed up, he was gone. Jack White just shook my hand!
My friend missed the exchange in her search of the limo, but she redeemed herself after the show the next night. While I was happily sleeping in my bed back in Fort Worth, she was standing outside the El Rey theatre at 1am with a sharpie and a White Stripes book (that I lent her, by the way). She managed to get an autograph and a photo op. Needless to say, I am a little jealous. OK, a lot. She was gracious enough to return my book, autograph and all. And of course, I framed it.
Now if you don't know me well or quite understand what this is all about, you might be thinking now that these sound like some sort of ramblings of a 13 year old at a Jonas Brother concert. But you would be sort of missing the point. I always joke that if it was socially acceptable for a 36 year old married woman to have a poster of a rock star on her bedroom wall, that I would. I keep my rock star posters confined to the Man Cave, in which my husband has graciously granted me a small corner for my poster. It is the love for music, the passion for great art and performance and the continuing evolve of this man that has kept me captivated in his music in a way that I can't quite explain.
(Here is my friend Mikki with Jack White)