Skateboarding has been something that has constantly been in my peripheral view for the last 13 years or so, since I started my life with Russ. He has a passion for skateboarding that has followed him his whole life. As a teenager and young adult he was a sponsored skateboarder by Zorlac Skateboards and Deadbolt trucks. As he got older and the concrete got harder, the actual skateboarding gave way, but the skateboard scene never did. In our house, there are skateboard videos playing the background, skateboard magazines on the coffee table, decks on the walls in the man cave and he even threatens to build a mini ramp in our back yard. Although the days of board slides down steep stair rails are gone for him, his love and passion for the sport is not.
I'm the one that came across 'Boneless One - Overground Project, Tribute to Jeff Phillips' on the internet. I won't pretend that I knew who Jeff Philliips was at that time. I saw there was a local skateboarding event with some pretty big names and I sent it to Russ, "Are we going to this"? After all, Russ has stood in long lines and drove hundreds of miles for my passions, the least I could do was support him in his.
Turns out the Overground Project is a new private skate park in South Dallas owned by legendary professional skateboarder Mike Crum and his partner, carpenter and skater, Oliver Bradley.
The event was a tribute to Jeff Phillips. Jeff Phillips was a local professional skater who took his own life at age 30 in 1993. The proceeds from the event benefited the Suicide and Crisis Center of North Texas. Pro-Skaters from around the country were flying into Dallas, TX for the event: Jake Brown, Christian Hosoi, Pat Duffy, PLG, Neal Hendrix, Chris Gentry, Darren Naverette, and many more. Although some of these names may not be household names outside of the scene, in the skateboard community these guys are rock stars. These are the guys that Russ grew up admiring, that inspired him as a kid. These are the guys featured in the magazines, starring in the videos, competing in the X-Games and Dew Tour. Some of these pros he has been following for 20 years.
When Russ heard about the event he called up Mike Crum. He wanted to help. He offered to donate an alarm system (from his own business) to the skate park as his way as giving back to the community that gave so much to him. When he showed up last week to install the alarm system, he ended up donating his time as well, to help prepare for the upcoming event. He met Neal Hendrix who used his professional skateboarding career and the world travel that it provided to feed another one of his passions, photography. Russ spent the afternoon helping Neal hang his photography that would be showcased during the event in an art show. I liked what Neal said on his Facebook page about his photography "My creative passion crystallized: looking through a lens is no longer about documenting the places that I've skateboarded, but about capturing moments in the lives of people who live so differently from me, who get through their day in unusual ways, and who have never even seen a skateboard."
(Neal Hendrix Photography)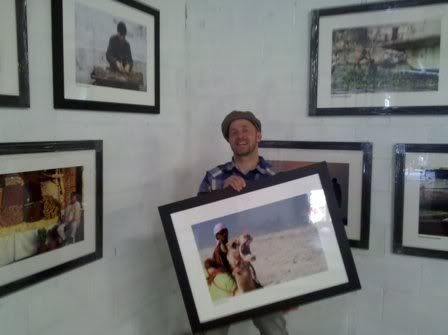 As we arrived late morning on May 28th, they were putting the finishing touches on the giant Vert ramp that was built for the event. I read somewhere it was 13 ft. It seems much bigger than that (Russ said he thought it was 13ft transitions). Then I read somewhere else it was 50ft but that didn't seem accurate either. I'm just gonna go with it was huge.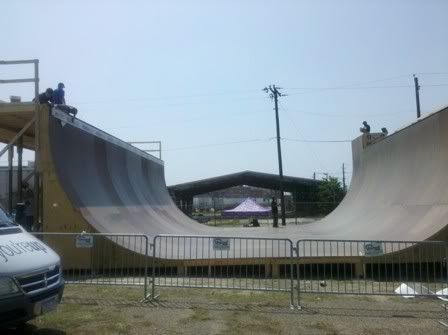 Inside a warehouse was the tribute to Jeff Phillips. They displayed his pro model boards, featured pictures of him skating on the wall and had a photo slide show.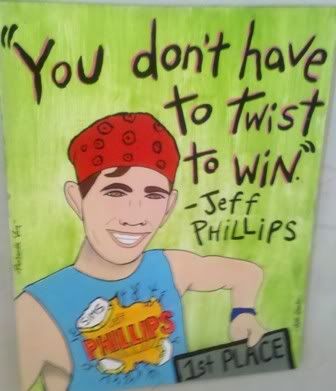 The other end of the warehouse was the Neal Hendrix photography, sponsored by Vans. They were selling prints of his photography, which we purchased and he was kind enough to autograph for us.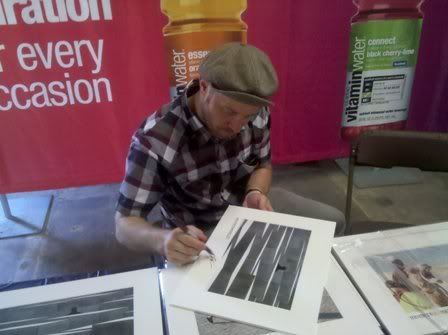 The real action was outside on the vert ramp. As typical on a late May afternoon, the temperature was just under 100 degrees. Welcome to Texas! Thank goodness the event was sponsored by Vitamin Water, so there was plenty of free hydration available. We watched from the bottom looking up as the pro's took the ramp on this hot and windy afternoon. Its amazing the things these guys can do with a board. I think the art and athleticism of the sport are often underrated.
(Pro Skater PLG on the Vert ramp)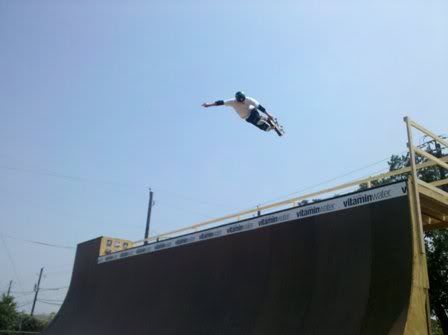 We spent most of the afternoon in the Texas heat watching the guys tear up the vert ramp. We both had a great time and Russ got to shake hands with many of the pro skaters he admired.
(Pro Skater Pat Duffy hanging out on the mini ramp)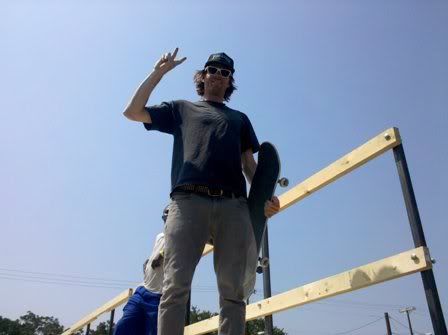 It was a fun afternoon that demonstrated the tight knit skateboarding community. These guys came in all over the country to pay a tribute to one of their own, to support a good cause and a local charity.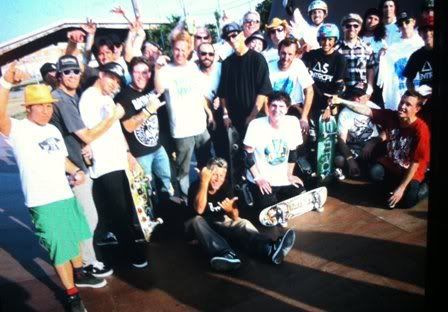 Are you following my blog? Simply click the blue 'Join this site' button to the left (you may have to scroll down from the top). Thanks, as always, for your support. Lea-Bean