If you read my blog yesterday, you read through all my cry-babying about not getting my hands on any of the Third Man Records Record Store Day releases. The anticipation of getting up at the crack of dawn, then waiting in line for nearly an hour and a half, then not getting what I wanted felt devastating. I realize that it was NOT devastating, but it sure felt that way at the time. I eventually got over it for the most part, accepting reality and moving on. My heart still stung with jealously as I watched pictures of my friends success' roll through my Facebook feed all night. Happy for them. Sad for me.
Yesterday, since I was upset at my loss and the record store was insanely busy, I really didn't even spend the time looking for anything else. I quickly thumbed through the Record Store Day releases and didn't see anything I wanted more than I wanted to go home and sulk.
Today we decided to hit some other record stores and see what kinds of things they might have left over. I knew full well the White Stripes were long out of my grasp, but I wanted to see what else I could find. There were other releases that were not Jack White related that I was initially interested in, but the blow of disappointment clouded my decision making skills that day. I mean, I PUT DOWN the Karen Elson I had in my hand. I regretted doing that right away.
First stop on our mission, Forever Young Records in Grand Prairie. I have now decided this is truly my favorite record store in town. Their vinyl selection is INSANE and they have a lot of imports, bootlegs and out of prints that you just can't find anywhere else locally. I browse the box of leftover 7" records from Record Store Day and pull out the MCR picture disc. OK, my first official Record Store Day Release purchase. They also happen to have Midnight Boom and Keep on Your Mean Side from the Kills, so I pick those up for good measure. I feeling pretty good and slightly redeemed, so I suggest we try to hit some other record stores and peruse the left-overs.
I really didn't know any other stores on our side of town (I didn't want to drive into Dallas again this week-end), so a quick Google search on my phone brought me to Doc's Records and Vintage in Fort Worth. The place was so small and out of the way, we drove right past it the first time. Inside was mostly used records, but a big selection overall. They didn't have much left over from Record Store Day and this guy tells us they only had about 15 people lined up yesterday. Ah, a lesson learned for next year, hit the smaller lesser known Record Stores first. Russ buys a couple of used Big Band records and we head out. Then, the guy working at the store tells us the strangest thing. He said that The Movie Trading Company got the Record Store Day Releases. Now, the Movie Trading Company isn't exactly an independent record store. In fact, they have 12 locations just in Texas and more locations under a different name along the East Coast. It is one of those places and that buys and sells used DVD's and maybe CD's. I didn't even know they sold vinyl. I haven't been inside one of these stores in years. I almost didn't believe him. I almost didn't go.
This place is right around the corner from my house. Russ drives me down, but decided it is going to be a quick trip for me and waits in the truck. When I didn't come out after 10 minutes, he parks and comes in. Inside, I was pleasantly surprised to see a vinyl rack full of Record Store Day Releases. I don't see what I am looking for so I ask a store employee if they have any other vinyl and he says they only have what is on the rack where I am standing. They had a Killers picture disk from record store day 2009 and a Black Keys picture disk. As I am paying for my new purchases, I ask the girl behind the counter if they have any other vinyl. She also tells me no. This is when Russ walks in the store, captain of the obvious, and spots the small rack of 7" records by the registers. We can't believe our eyes. We start pulling out all the releases we missed out on at Good Records. They have it all. Well, not all (if you know what I mean), but way more than I expected.
Russ finds both the Rome featuring Jack White and the Karen Elson for me.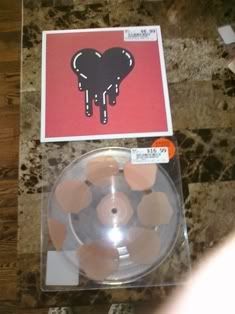 Then we keep pulling them out:
-- The Havana Affair performed by the Ramones (1976) and Red Hot Chili Peppers (2002)
-- Don't Want to Know if You Are Lonely performed by Husker Du (1986) and Green Day (2000)
-- Love Hurts performed by Gram Parsons & The Fallen Angels (1973) Jenny & Johnny (2010)
--Matt & Kim Block after Block
The funny thing is that the kids behind the counter had no idea what any of this was all about. To them, they received some vinyl and put it on the shelf. They had NO IDEA about Record Store Day or the limited edition vinyl. I told the guy I waited in line for 1.5 hours at Good and wasn't able to get any of this stuff. He told me they only received 2 of the Rome Record. You mean to tell me, I got up at the crack of dawn and drove into Dallas, when all I needed to do was go to Movie Trading Company at 10am, a mile from my house? No lines, no hype. I asked him to check for the White Stripes and he looked it up on the computer. He said they had one of each yesterday, but they were gone. He searched all the local stores and same story.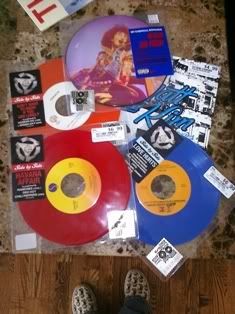 Record Store Day 2011 turned itself around and came out OK. I'm a bit poorer, but happy I added some new vinyl to our collection. I didn't get the releases of my beloved White Stripes, but I know there will always be something new and exciting with them. If I know anything about how Jack White runs his business, I know there will be other opportunities for White Stripes colored vinyl.
The irony is not lost on me, that I found this stuff at a chain store.